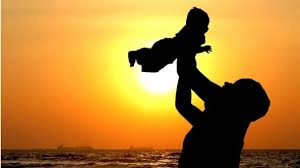 Having read "A Letter from a Working Mother to a Stay-At-Home Mother, and vice versa" I thought all the great dads out there deserved similar.
A lot of the media talks about mothers as if they are the only people doing a hard job as a parent, they seem to enjoy putting dads down and suggesting that their life is easy and that they don't do a worthwhile job.
I'm not saying anything bad about the wonderful mothers, wives and partners out there because they do an amazing, often thankless job that deserves all of our respect but I want to acknowledge all of you good dads, because I know you also do your very best, never being certain what's the right thing to do, sacrificing so much just to provide for your family and making a commitment that you will be there and do your very best for them, through good times and bad, for the rest of your life.
I know how hard it is, how much drive it takes to carry on fighting for your family and how at times, perhaps because you're a man and don't really talk to people about such things, you struggle with the weight of pressure, having to deal with it all in your own head. I know these things because I'm also a dad, father to an amazing 18 month old boy that I love dearly and for whom I hope I can always be the amazing dad that he deserves. So this is to you good dads, not the bad ones that the media likes to portray but the ones that work hard, love their children and just try to do their absolute best.
I know you respect the fact that your partner has made many sacrifices to have your children, to look after them as much as she does and that it has affected her career (whether she is a working or stay at home mum) but I also know that you also had no choice, you had to carry on working when you would dearly love to be able to spend more time with your kids.
When they were born, society didn't support you with time away from work, if you're lucky you got to spend two weeks with them before you had to go back. I know, although you probably didn't say it at the time that it broke your heart that day when you had to leave your two week old baby and go back and sit in your office. I know that those around you joked about how it must be a relief to get away from the house and as a man you probably joked along with them but deep down inside you knew how much you were missing them and how much you wanted to be there with them.
I know how scared you are, how you have nightmares and wake up in the night praying that you will be good enough as a dad. I know how much pressure you put on yourself to provide for this family of yours and to ensure that they have all that they need and the best start possible in life. I know that you are willing to sacrifice time that you would love to spend with them in order to make sure you can achieve all of this for them because you know that it is part of your duty and I know that you also feel guilty that you can't spend a lot more time with them.
I know that whilst you have to be away from your family, working to ensure their future, you are thinking about them all the time and wishing you could be there with them. I know you would do anything for them and will always put their needs before your own.
I know that alongside this new found responsibility of being a dad you also want to be the best husband/partner you can be. You probably don't always make the best job of it and you probably make mistakes but if you're honest did you ever profess to be perfect. What you do is try your hardest, sometimes it's not good enough but I know how hard you try.
I just wanted you to know that I understand how you feel and I think you're great.
So let's continue to rightly praise mothers for doing an amazing job but whilst we are doing it let's not forget that fathers are also, in the most part, doing pretty well. For all the complaints that may be made, when I look at the families around me the overwhelming majority of fathers are doing their absolute best for their families so please join me in saying, great fathers out there we respect and support everything that you are doing.